There is so much to do at Domaine de Pamadera … too much to mention and much better to experience for yourself!
To give an impression of the possibilities for your well-deserved holiday, we would like to list it for you;
 Swimming pool
 Deck chairs
 Hammocks
 Rocking chairs (romance tree)
 Crow's nest swing
 Air trampoline 6×8 meters
Basketball court
 Football field
 Volleyball field
 Badminton court
 Snooker table
 Table tennis table
  Darts
 To walk
  Mountain biking
  XXL Checkerboard
 XXL chessboard
 Jeu des Boulesbaan compete with popular sport 1 in France!
 Outdoor cinema (films and events on mega screen)
 Fitness studio (under supervision)
  Gameroom
 Reading corner
 Board games
 Relax seats … get away from the hectic pace with a fantastic view
 Breakfast (8 am-10am)
  Lunch (12.00-14.00 uur)
 Drinks time (4 pm-5.30pm)
  Diner (20.00 uur)
 Ice cream sales (all day)
  Drinks or a cup of coffee or tea (all day)
  Campfire
 Free wifi
 Animals
  Atelier
  Workshops
 Large Veranda for unprecedented cosiness!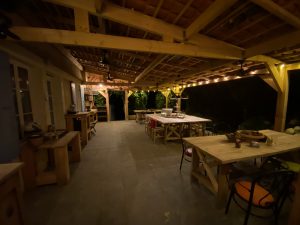 Come and experience it and …. enjoy Peace, Space and Cosiness!